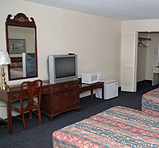 The Villa south Motor Inn is located between Atlanta and Savannah and the mid point between Augusta and Macon, Villa South is a convenient stopping place for access to local industry as well as businesses throughout the area.
Whether you are visiting family or friends, conducting business or just need a convenient stopping place, a warm welcome awaits you at the Villa South Inn. The Villa South Inn is a Georgia Tradition.
We have the BEST accommodations for the BEST price in town!